Oil Rises on Catch-up Buying Despite Ongoing Covid Concerns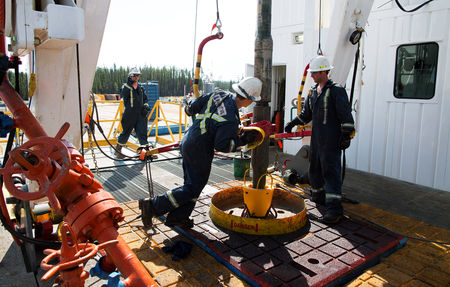 Commodities
19 hours ago (Jun 18, 2020 04:22PM ET)
(C) Reuters.

By Barani Krishnan
Investing.com – Oil prices rose as bulls in the market tried to reignite the rally in crude by focusing on signs that fuel demand may be improving despite concerns of a second wave of coronavirus infections.
Oil producers who cheated on output cuts initially pledged to the OPEC+ alliance also renewed their promise to do better in a video meeting held Thursday, providing further support to the market, Bloomberg reported.
Vitol, the world's largest independent oil trader, estimated that global oil use is rising by 1.4 million barrels a day every week in June, taking this month's growth to more than 5.5 million barrels.
Trafigura, another prominent name in crude trading, said oil demand was back to 90% of normal levels and that it expected prices to be range-bound at around $40 per barrel.
"The trend is your friend," said Igor Windisch of the Geneva-based IBW Daily Oil Brief. "And the data supports the trend so I would jump on that trend and go long."
But some were less optimistic in their outlooks.
"We maintain our view that while we expect prices to continue increasing through the year, oil is expected to see short-term bearish pressures as we head towards the end of Q2," Singapore-based OCBC said in a note.
New York-traded West Texas Intermediate, the benchmark for U.S. crude, settled up 88 cents, or 2.3%, at $38.84 per barrel.
London-traded Brent, the global benchmark for oil, rose 80 cents, or 2%, to settle at $41.51.
Week-to-date, WTI and Brent are up more than 7% each, almost recouping last week's drop of more than 8% on both.
The rebound in crude comes as novel coronavirus caseloads continue to surge across the South and West of the United States. For specifics, Arizona announced 2,519 new cases on Thursday morning, Florida announced 3,207, and California reported 4,084 — all new highs.
Coronavirus hospitalizations in Arizona have also doubled since Memorial Day, with public data showing inpatient beds across the state at 85% of capacity. Florida announced 43 new deaths, and its rolling case average hit a new high for the 11th straight day.
In China, the new outbreak of Covid-19 in Beijing prompted authorities to raise their official emergency response back to Level II on Tuesday night, as they raced to stem what one called an "extremely severe" situation. The adjustment to the Chinese capital's response level came just 10 days after a downgrade to Level III.
In the fuel market, rising demand has helped offset concerns that the virus could lead to another major slowdown of economic activity and oil consumption.
Gasoline stockpiles, a bright spot on the oil complex since the U.S. Covid-19 lockdowns began easing in recent weeks, saw a sharper-than-expected draw of nearly 1.66 million barrels last week, adding to the previous week's drop of 866,000, the Energy Information Administration said on Wednesday. The market had only expected a 170,000-barrel decline for last week.
Distillate stockpiles, led by diesel, also surprised, dropping by 1.35 million barrels last week versus expectation for a 2.43-million barrel build. Distillate stockpiles had grown by nearly 53 million barrels in nine previous weeks.
And in terms of production, U.S. oil output actually fell to an estimated 10.5 million barrels per day, down 20 percent from record highs hit three months ago, the EIA data showed. Just in mid-March, the world's largest oil producer was turning out 13.1 million barrels daily.
Oil Rises on Catch-up Buying Despite Ongoing Covid Concerns